Main Content
UNICEF HK and HKAPA co-organized 'Merry Go Around HKAPA'
2022-10-31
UNICEF HK AND HKAPA CO-ORGANIZED 'MERRY GO AROUND HKAPA' – A CONTINUANCE OF 'FOR EVERY CHILD, CARE & RELIEF" CAMPAIGN THAT PROVIDES LOCAL FAMILIES AND CHILDREN WITH ANTI-EPIDEMIC SUPPORT.
HONG KONG, 31 October 2022 – To provide local children with diversified development opportunities and to safeguard their physical and mental health, Hong Kong Committee for UNICEF (UNICEF HK) and Hong Kong Academy for Performing Arts (HKAPA) co-organized 'Merry Go Around HKAPA' on 30 October 2022. 128 participating children visited backstage, made performance costumes and took an introductory ballet class during this fun-filled art experience. As a continuance of UNICEF HK's 'for every child, care & relief' campaign, 'Merry Go Around HKAPA' will be hosted several times this year to endow 500 children from underprivileged families with a unique learning experience.
Ms. Judy Chen, Chairman of UNICEF HK, said: "UNICEF HK is always committed to protecting children's rights and providing them with all-round development opportunities. Prolonged pandemic has deprived many children of precious learning opportunities for over two years. 'Merry Go Around HKAPA' takes children into the world of performing arts and realizes the vision of all-round development. UNICEF HK is grateful to HKAPA for integrating art into communities and offering our next generations an art exploration and self-discovery experience."
She also mentioned that children's mental health under the pandemic is one of UNICEF HK's key concerns. The 'for every child, care & relief' campaign in response to 'Never Stop Learning' and 'Reimagine Education' encourages children to explore different learning methods and curricula. We hope our children will gain fun and self-confidence to rise above impact of the pandemic.
UNICEF HK launched 'for every child, care & relief' community support campaign to care for the local underprivileged families with children and/or pregnant women impacted by the fifth wave of COVID-19 pandemic. The campaign received generous support from Dr Martin Lee, Chairman of Henderson Land Group and Vice-Chairman of UNICEF HK. A total of 7,500 families from all over 18 districts were benefited. UNICEF HK also rolled out a Sustainable Development Goals (SDGs) eLearning Award Scheme that encouraged students to make meaningful use of their time during the special school break.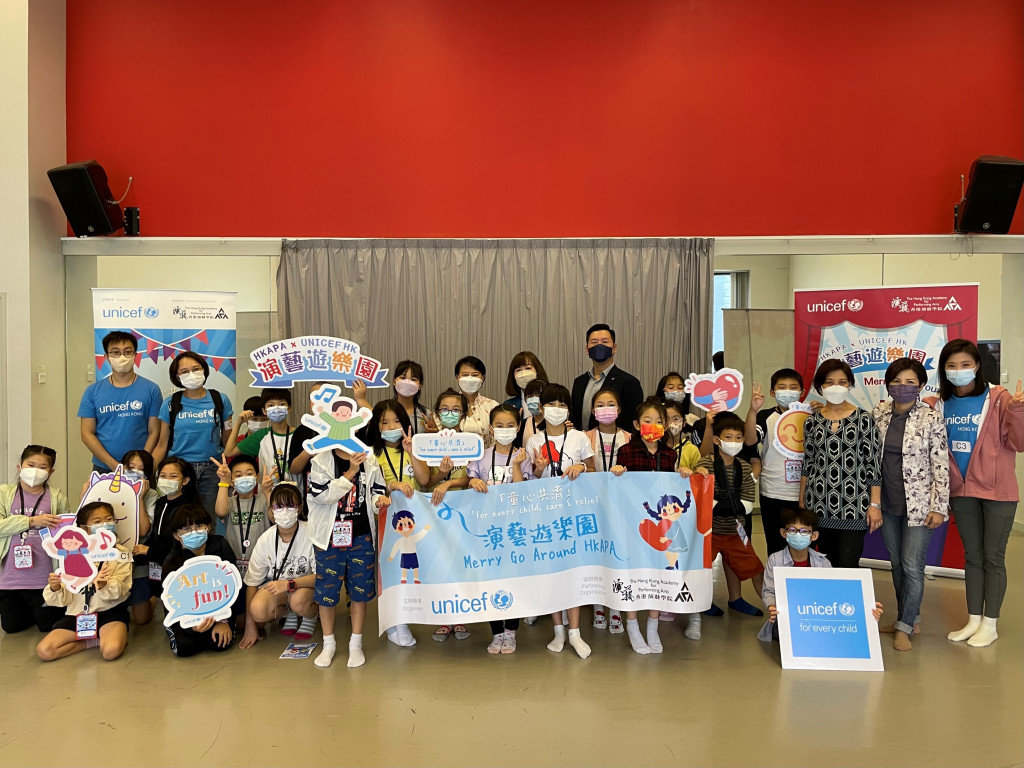 UNICEF HK and HKAPA co-organized 'Merry Go Around HKAPA' bringing a fun-filled art experience to the children. ©UNICEF HK/2022
For media enquiries, please contact:
Youk Huang Manager, Communications Tel: 2836 2929 Email:[email protected]
Ricky Cheng Director, Communications and Media Relations Tel: 2836 2984 Email:[email protected]
About Hong Kong Committee for UNICEF
Hong Kong Committee for UNICEF (UNICEF HK) was founded in 1986 and was established as an independent local non-government organization to raise funds through public donations, corporate partnerships and special events, etc. to support UNICEF's work. UNICEF HK also promotes and advocates for children's rights through organizing education and youth programmes in Hong Kong.